Top 10 Ways to Divorce Your Diamonds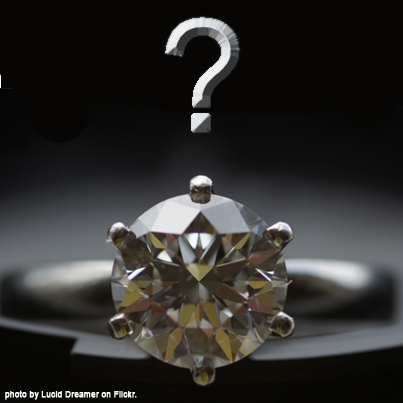 Have you ever seen those shirts that you can get on vacation that say, "My parents went to this fabulous place and all I got was this lousy t-shirt?" Well, what about a shirt that says, "I took a trip to the courthouse and all I got was a divorce and this diamond engagement ring."  The fact is, when a woman gets a divorce, you divorce your husband but you keep the jewels, and sometimes you need to divorce those as well.
There are lots of reasons why you might want to divorce your diamonds, and the number one reason is monetary.  Let's face it, when you get divorced all is not fair in the division of equitable property and your lifestyle has to change.  There aren't two paychecks or maybe even one anymore, and you might just have the child support to rely on and bills need to be paid, and when you look around one of the things you do have that is worth money in the bank are those diamonds and other jewelry that you got while you were married.
How to Divorce Your Diamonds
Take stock of what you have in terms of jewelry.  Go into your vault, your jewelry box or under your mattress and pull out your jewelry and organize it into groups.  What you can't live without, what you can live without and what you are apathetic about.  If you have diamonds or expensive pieces in the apathetic pile, move it into the can live without pile, after all, apathetic means you don't care one way or the other.

Try on 'the can' live without pile one last time. Why would any sane person recommend this? Because just like divorce it's a letting go process. You have to let go of the past and the memories to move on. I have had women and men who have sat across from me and cried as they have sold the things they have because they haven't let go. This is not an easy process, no matter how desperately you might need the money.

Try on 'the can't' live without pile. The reason for this is that once you put some of these pieces on you might realize there are some things you can live without or are apathetic about.  If that's the case, move them over to the other piles.  If you aren't sure, it doesn't hurt to take them with you to get a price on them.  Remember, you don't have to sell anything you don't want to sell just because you are taking them to a diamond buyer.

Make sure you are emotionally ready to let go. Although the decision might stem from reasons that are not emotional, it still involves emotions. So, before you go, make sure you are ready.  This might mean sitting on those piles for a few weeks to a few months, and you know what, that's okay! You need to be comfortable.

Be prepared to not get what you paid for retail.  This is the toughest thing to come to terms with. Either you or your ex paid a lot of money for all of this, but the resale and the retail are very different.  The resale depends on many things, such as the price of gold that day and even the price of diamonds and the cut, shape and clarity of the stone, as well as the specific need in the market.  Just like fashion, some diamonds are more popular at times than others, which makes them more valuable.

Insured cost does not equal resale cost. This is along those same lines as #5. You will not get the replacement value that you have your jewelry insured at.  Why? Because you aren't replacing it and insurance companies charge you a premium in case they do have to replace a ring or a pair of earrings at retail value! We, on the other hand, buy your item, then turn around and sell it to someone else.  We have to take into account how much profit we can make on each piece depending on the market and how long we might have to sit on the piece.  Our profit margin is usually around 10%.

Do your research first. Before you take one step out of the door to visit with a diamond buyer do some research.  This is as easy as talking to friends and family, calling the Better Business Bureau, doing a Google search and making some phone calls to some of the websites that look promising.  The reason why this is so important is that you have already had enough trauma and drama from the divorce and selling your diamond is not easy, so instead of adding to that stress, relieve it by feeling comfortable with the buyers you do decide to meet with.

Make a list of questions you might have for your diamond buyer for when you do meet.  These are questions like how do they pay you, cash or check? What do you need to bring with you other than the jewelry? If they remove the diamond from the setting will they put it back in the setting afterwards? Will they charge you to give you a price? If you choose, will they just take your stone on commission?  You need to know all the facts first.  Knowing all the information before you walk in the door will make you feel in control, which is what you need when you are this vulnerable.

Make sure you have all your ducks in a row before you go. It's important that you have all your paperwork, boxes and whatever else you may have on hand for all your jewelry organized before you meet with the diamond buyer. Make sure you have made a list of everything that you are selling, and what you would like to get for each piece.  When you do sit in front of the person who will be looking at your jewelry, just hand them one piece at a time and allow them to look at each piece and discuss it before moving on to the next piece.  They will have allotted plenty of time for you and they won't rush you if you won't rush them.  This also gives them plenty of time to examine each piece thoroughly to give you a fair valuation and price on it.

Take deep breaths.  This is just another part of letting go in the divorce process.  A diamond or the jewelry that you got while you were married are just material goods.  They aren't what hold the memories or the moments for you.  They can all be replaced, and think about what you have to be grateful for, whether it's your kids, your home, your family or your new life you are embarking on.  The future can only get brighter, with or without a diamond.
BIO
Sergio Nuncio has been buying and selling used jewelry since he was 17 years old. If you have a diamond, watch or piece of jewelry that you need or want to sell please visit Sergio at Jonathan's Diamond Buyer or Jonathan's Watch Buyer or follow him on Facebook.