The Gray Divorce: A New Future As An Independent Single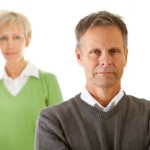 "The phenomenon of "grey" divorce—couples over the age of 50 separating after years of marriage—is becoming more and more widespread. If you are one of those separating from a spouse later in life, you must realize that you are certainly not alone. Respected newspapers like the Wall Street Journal and the New York Times have recently reported that while divorce rates in other age demographics have decreased over the last 30 years, the number of couples splitting up late in life has sharply increased.
In many respects, these grey divorces are no different than any other divorce. Heartbreak is a universal trait. Regardless of age or phase of life, the death of a relationship is invariably painful. The important thing for divorcees over 50 to remember, however, is that the natural process of healing, moving on and creating a new life is every bit as universal. For the old as well as the young, divorce should be regarded as a transition and not a way of life. Individuals must be ready to leave their previous married existences behind to embrace a new future as independent singles."
This is an excerpt from the article Divorce Detox wrote for Senior Times, Read the full article here.