PTPA: Parent Tested Parent Approved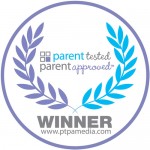 The Divorce Detox Survival Kit won the prestigious Parent Tested Parent Approved (PTPA) Award.  PTPA Media has North America's largest volunteer parent testing community, with over 40,000 parents and was rated the Most Trusted Seal by 22,000 parents.  Consumers looking for high-quality products and services can rest assured when they see the PTPA Winner's Seal; it's evidence of a products excellence from having been evaluated by unbiased parent testers.
Divorce Detox was among many entries from across North America competing to earn the PTPA™ Seal. Independent parent volunteers evaluate products in their own homes to ensure that PTPA winners are chosen based on merit and consumer experience – not on commercial considerations.
Being honored with the influential Seal of Approval from PTPA Media Inc. is a huge achievement for a product geared to families, children or parents.
"At PTPA Media, we are proud to play a role in certifying innovative products that families can trust," says Sharon Vinderine, CEO and founder of PTPA Media Inc. "When consumers search for our Seal of Approval on product packaging and web sites, they are essentially searching for validation from their peers. Their peers will have objectively tested and approved these products based on their performance in a real life environment. That type of resource for families is priceless."
PTPA Media provides an objective framework for appraising and promoting new products designed to enrich family living. The company's mission is to marry innovative companies with discerning consumers, to improve consumer access to quality products and services for their families and homes.  The media and parents alike trust the collective opinion that PTPA represents.
Reviews
"I found this program useful as I am still in the process of getting a divorce. Although I have a great support system, this site allowed me to journal daily with guided questions and no worries about somebody else giving me their opinion or advice on what they think I should do. I think the price is reasonable as I would imagine most every one experiencing a divorce is also experiencing some level of financial stress. Having some guidance is definitely helpful. During stressful times, it is already difficult to focus, let alone think. I hope to continue with the program throughout the entire divorce process…."
"Divorce is hard and something no one ever wants to deal with. When you're confronted with divorce however, having support can make things less scary. The Divorce Detox is a great service for helping anyone through a divorce and encouraging them to feel happy again. This is one service that is great for not only divorces but separations and relationship issues. It helps you feel like yourself again and teaches you coping methods for the experiences you may have throughout this unwanted situation. Divorce Detox is a great service and very beneficial for those needing a little added support through those hard times."
"I've decided to test-drive "Divorce Detox ~ The Cure for a Broken Heart" NO, my husband and I are NOT getting divorced~ (just had to squash any rumors before we continue…) So if I'm not going through a divorce, then WHY review a program designed to assist those going through one? I figured that I have 2 things in common with someone trudging (or jumping for joy…) down the path of divorce 1) I had no idea where to turn for help 2) I had no idea where to go for support Signing up and creating a profile on Divorce Detox is simple and straight forward, and I really liked the option to make much of the requested info "Private". To be honest, from there, I wasn't really sure where to go, so instead, I got distracted by other "shiny" things on the internet. Now this is where the beauty of Divorce Detox begins…..because the system doesn't let you forget. Each day in my mailbox, I had a friendly little reminder about that day's self-guided program step. No guilt, nothing too detailed and wordy, just a nice gentle reminder. By the 4th reminder I was curious and clicked back into the site, started to explore, and really like what I discovered….. ~Forums where one can read and/or post questions and comments ~Member listing that allows one to search others who are currently online or who fall within specified demo graphics ~A place to record one's "stretches". These are ways that one has gone "outside of their comfort zone" and faced fears in order to get stronger and heal. The Divorce Detox team offers suggestions and challenges for you. ~Monthly online live group coaching calls. A variety of subjects are discussed. ~and my favorite one of all……a journal. It is encouraged to make a journal entry each step of the program, be it a few paragraphs, a few sentences or just a word that best describes your emotions of the day. LOVE STINKS is a totally acceptable journal entry, as long as it is sincere. The Divorce Detox team inspires journal writing with questions each step of the way Making that big and final decision to divorce is hard and I believe that the Divorce Detox system can actually help those just trying to get through a "rough patch" in their marriage. Divorce Detox ~ The Cure for the Broken Heart is a journey of self-discovery and personal growth, and even though I am not personally going through a divorce, I do plan to finish out my "Steps" in the program. Marriage is not always easy, and sometimes it just doesn't last "Happily Ever After", but there is support, there are those that understand and care, and there is happiness after the sorrow. "Divorce isn't such a tragedy. A tragedy's staying in an unhappy marriage, teaching your children the wrong things about love. Nobody ever died of divorce."