Insult? Good!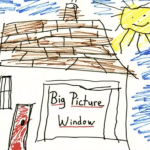 Rose Duffy Gibbons had a dream. She began playing the saxophone in high school and over the years she has been privileged to play with a variety of Blues legends. Rose's Ex didn't share her passion and did not believe Rose would ever amount to anything. "My ex-husband told me that I will 'never make a dime with my music,'" Rose says. "It might be the best thing he has ever said to me." After her divorce, Rose found her voice again and wrote a sweet song and created a picture montage for her son when he left for college. "I'd like to share its positive message with you."  Rose's message? Don't give up on yourself. Divorce may not seem like a positive decision, but in many cases it can be quite freeing.
When we're dating we can put on quite a show. But who is our audience? A lot of times we become what our partner expects from us and it's only when, years later, after we divorce, that we realize that along the way we've let slide pieces of ourselves: talents, passions, dreams. Post-divorce is a time to get back to ourselves and find out who we are, surround ourselves only with people who appreciate us and build ourselves back up.

At first this might be tough to do. You will need to get to know yourself again. Go slowly. Test the waters. Pick up that guitar that's been collecting dust in the closet. Strum a few chords. Feel what it's like to be your own audience. Learn to be your own cheerleader. If you have a record function on your phone, record a few words of encouragement, a few cheers. No one but you will hear them. Write down what you appreciate about yourself. Add something every day. You no longer have to impress anyone but yourself.
Rose's video has received some attention on YouTube. Be sure to watch it here.  Leave her some words of encouragement. It will make you feel good, too.
Supporting ourselves and others does wonderful things to the chemicals in our brains. We become more positive, nurturing, and optimistic. A great way to give and get this support is by signing up with the award winning Divorce Detox's Survival Kit. Get your confidence back; appreciate yourself so you can connect with others.