6 Week Telecourse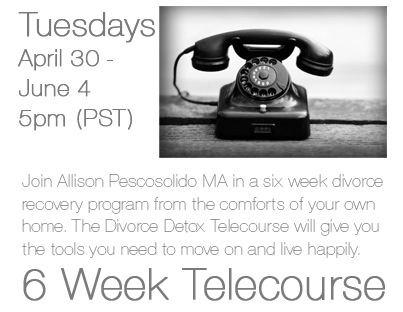 Designed specifically for those that live outside of Los Angeles or prefer to detox in the comforts of their own homes, the Divorce Detox Telecourse is a six week program dedicated to divorce recovery.
Beginning April 30th at 5pm with Redefining Divorce in Your Brain, this six week telecommuting program teaches fundamentals to divorce recovery and reframing your life.
All course are Tuesday evenings at 5pm PST.
Purchase your Telecourse Package.
The Courses
Redefine Divorce in Your Brain
April 30th
Divorce is confusing, disorienting and unsettling. Everything that was once safe and secure is up in the air, so laying down new groundwork is an essential step in moving forward. Positive and longstanding change stems from a solid foundation of knowledge, support and self-care.
The Emotions of Divorce
May 7
The feelings around divorce can be debilitating and overwhelming. While every person's experience and relationship is unique, there are some universal feelings that are normal during this time. Knowing what is normal, and having an idea of what to expect can smooth the transition, and ease some of the unnecessary suffering.
Turning from Lover to Business Associate
May 14
The divorce transition is one of the most vulnerable experiences you will endure. It is imperative that you transform the relationship with your ex now that you are no longer married.  You will learn to change your mindset and establish healthy boundaries, which will protect you. These guidelines will help you deal with your outer world, and greatly impact your experience during this fragile time. Dealing with your ex, family, friends, colleagues and the general public in a productive way is paramount to moving on.
Closure
May 21
Moving on from divorce requires transformation of the relationship with your Ex. Even if you are still in contact because of the children, property or other circumstances, your divorce signifies the death of the relationship you had with your spouse when you were married. Specific exercises need to be taken to complete this relationship, and heal any open wounds or memories (exercises are not shared with your ex)
Relationship Fundamentals
May 28
Learn proven dating and relationship fundamentals that will give you the confidence to date combined with a foundation of what to do next.  This class has shifted many people's dating perspective from fear and loathing to starting solid relationships.
Operation Reset
June 4
The devastation of divorce can make it difficult to function, and it is easy to become paralyzed by the uncertainty and fear of the future. In order to move on, it is essential to create a 6 month plan. This will guide you to re-discovering who you are again.  Getting to know yourself again, experimenting with life, dating and spending time alone are some examples of ways to move into this new phase of life.